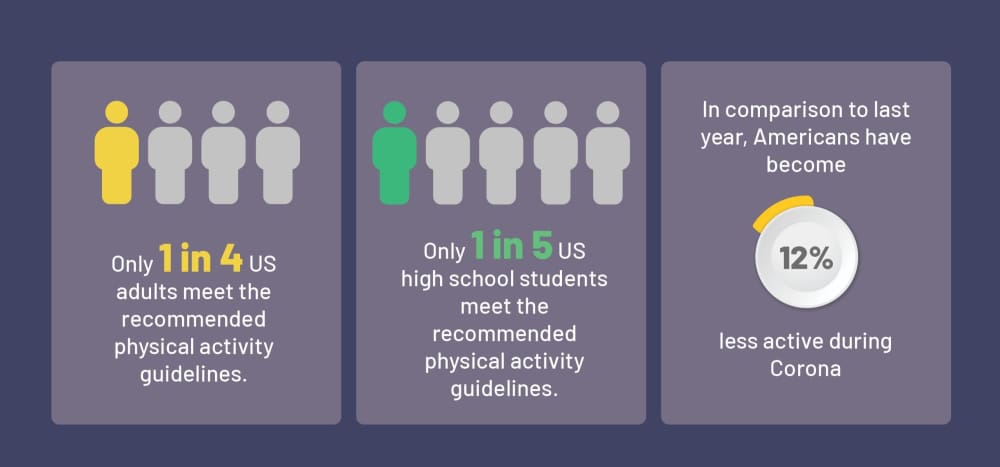 Graphs about physical activity
Covid-19 has decreased physical activity all over the world. Inactivity has a large range of negative effects on human health as illustrated in the graphs on this page.
The first two graphs contain facts on health and physical activity in The United States, and the third contains facts on Europe.
Decreased physical activity in the US
Very few Americans meet the physical activity guidelines, which have serious health consequences.
Click here to download jpg-file
A third of American adults have prediabetes, and 90% don't know that they have it
Being overweight and being physically inactive are the leading preventable risk factors for prediabetes and type 2 diabetes. Furthermore, being physically active has a wide range of benefits.
Click here to download jpg-file

Physical activity in Europe has declined significantly
Inactivity is unhealthy. It decreases physical shape and lowers muscle mass. Furthermore, low levels of physical activity can contribute to a wide range of diseases.
Click here to download jpg-file
You can freely download and use the illustrations for any purpose. All we ask in return is that you include the attribution link on your page when you use the illustrations. We ask this so that as many people as possible will be able to find our resources and help us increase awareness of the consequences of physical inactivity.
See the full license here: Creative Commons Attribution 4.0 International License